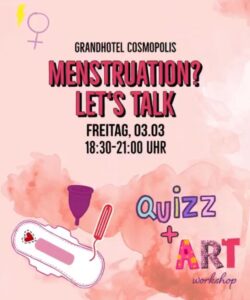 As part of the celebration of the International Women Day, your Grandhotel Cosmopolis is organizing a thematic evening in our bar to unclose myths, taboos and curiosities around Menstruation. Our ex-intern @ekaterina.donskova will organize this fun workshop where all of you, women and men, are invited. Here a little bit more of info about how will go this evening workshop:
"The purpose of this workshop is to generate interest in menstruation, increase a positive attitude toward this topic and work out most of the negative stereotypes and associations that reinforce stigmatization. It is important to note that in this part of the project, our goal is also to work with the perception of menstruation as a negative and painful thing, so I consider it important to focus our work on combating taboo and increasing a positive attitude to this physiological process. The workshop will be designed for a group of 20 people and includes 2 parts: an information quiz and an art workshop. The quiz is aimed at involving people in a conversation about menstruation, and reflection on this topic. The art part of the workshop will be designed not only to reveal the creative potential of the participants but also to form parallels between menstruation and art. Art helps to open a dialogue between a person and a problem, influences the formation of a positive perception, and also unites the experience of participants (from which the feeling that you are one-on-one with the problem disappears) . During the workshop, each participant will create collages on the topic of menstruation."
We will be glad if you come and join the workshop. Help us to spread it between your friends and love ones. Let's have a nice evening all together and learn more about this topic. If you want to book a space or a table for you and your group of friends, write us a DM in insta or Facebook.